by Maroula Blades
– Winner of the 2012 erbacce-prize for poetry –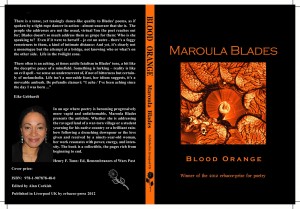 Click here for book orders.

French newspaper article about the poetry collection Blood Orange
Click to view: www.rfi.fr

Article on the Creative Writing News website about How to analyze a poem?
(Examples, Worksheet Questions and Tips)

Blood Orange
by Maroula Blades
At Kiang–Nan in the Kiangsu
There are small scarlet oranges
That the winter doesn't kill
Because the air is truly sweet at Kiang Nan.
(China: written in the eighth century, author unknown.)
I'm an orange bandit in a thick scarf.
Bloody is my flesh, it's sour to kiss,
But it's plump with good things to stain lips.
Unzip my organza negligee
To release a lachrymal heart,
I'll tease and colour you quietly.
On the sapphire Indian Ocean,
Forefathers' skins were etched by salt,
Naked they bled riding petticoat waves.
Our home was a dhow from Kiang-Nan
Where words of love rolled amid cannon and ball,
The rhythmic squall softened a sailor's heart,
He stole away in a boat filled with hessian sacks
And planted new orchards in distant lands
Where our blood became sweeter and sweeter.
We have liberty now stamped red on our skins,
Symbiotic we are with the new vine and earth,
Our tongues are narrow, but the blood swells rich.
I'm an infidel swiftly diminishing,
Precious oils have dried in wells,
I'm all chewed up inside, I know it.
This once sexy bandit's belly button's black.
I'm a host for egg laying strangers.
Come to my bowl, tease cerise, taste my tang.
It's too late hand, I'm really rotten now.